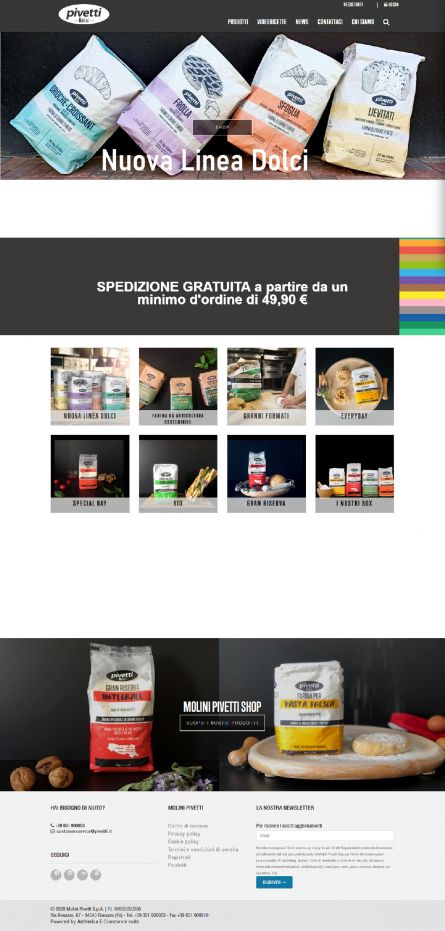 Sadly known for being the year of Covid, 2020 also seems to be the year of flour, with an exponential growth in sales and a rediscovery of home baking and home made production of sweets, pasta and pizza.
2020, destined to be remembered as the year of the Coronavirus, was also the year of yeasts and flours. In recent months we have learned to include disinfectants in the shopping list, but flour, baking powder and brewer's yeast have also increasingly entered our trolleys. Flour sales have experienced an unprecedented boom, with increases of more than 200% at some stages of the pandemic.
The lockdown, boredom, but also the rediscovery of pleasant activities to do in the family and with them of traditions, grandmother's recipes and, why not, healthier and more genuine ingredients and foods.
With a view to coping with this surge in demand, Molini Pivetti has decided to open its online shop: on
www.pivettihub.it
you can find all the flours of the Molino, with a wide and diversified offer for both families, with the traditional formats of 1 Kg and 750 g, and for professionals, with the formats of 5 and 10 Kg.
For those who want to prepare delicacies at home there is the Milleusi Bio, obtained from the grinding of 100% Italian organic grains and suitable for bread, pizza, sweets, fresh pasta, or the Gran Riserva line, made exclusively from Emilian grains; for those who are undecided, the Pivetti Box, with an assortment of flours to try to indulge in doughs, sheets and leavened products.
For professionals, the brand new desserts line, with specific flours for brioche, shortcrust pastry, puff pastry and leavened products, but also strong flours for pizza and fresh pasta.
For all those who care about protecting the environment, the sustainable Pivetti line, the first flour from a controlled supply chain whose environmental sustainability is fully guaranteed.
There really is something for everyone, in the literal sense of the term.
Molini Pivetti's online sales portal was entirely created by Antherica on the new proprietary e-commerce platform: find more information on the latter at the following link. In addition to the front-end site, the platform allows you to easily manage catalog, users, orders and all administrative and billing documents from the back-end.
For Molini Pivetti Antherica also takes care of the promotion campaigns on engines through Google Ads.
Choose your flours on pivettihub
---