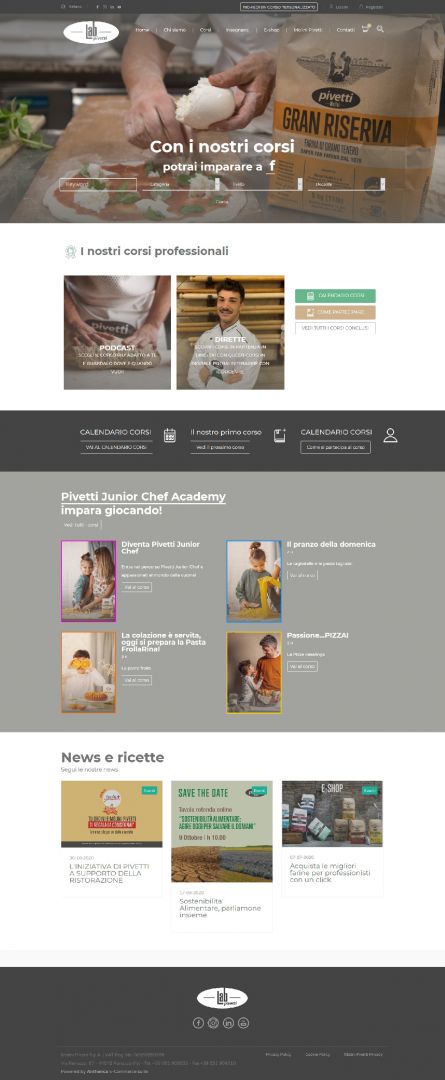 After e-commerce, online since last summer, Molini Pivetti opens its academy: a digital laboratory entirely dedicated to
artebianca
(the art of producing bread, pasta, pizza...everything you can produce with flour), with differentiated learning paths, suitable for both professionals and those starting from scratch, but also for families and children.
Raise your hand if you were a child who did not mess at least once with the dough that mothers, fathers, grandmothers or aunts were working on the pastry board! Or who has never put the guilty little finger in the bowl, pulling it out well covered with raw dough and then licking it greedily. Usually points 1, 2 and 3 were repeated indefinitely until you were caught in the act and scolded.
Dear children of today, there is a wonderful news for you: the Pivetti Junior Chef Academy, with grandmother Rina Poletti. She's ready to make you take your first steps in the world of cooking. You will learn with her, having fun, how to prepare the pastry, the noodles for Sunday lunch, the pizza, the biscuits and many other recipes.
Are you ready? All you need is a rolling pin, a few containers, of course flour, eggs and a few other ingredients. Let your parents play with you too ... we know they can't wait! Let it be clear, however, that the course is for you and that you will be entitled to taste it first.
Even for the children of yesterday, Pivetti Lab offers a wide selection of courses, differentiated by theme and level, suitable both for those who already work in the sector and for those starting from scratch and want to build their future as a pizza chef, pastry chef, cook or baker.
There is the basic course of fresh pasta, for example, available online in podcast or live; the pro shortcrust pastry course, to learn how to prepare splendid classic shortcrust pastry, whipped or sandblasted; that of puff pastry, to become masters in the preparation of puff pastry of all kinds and for every use.
Have we enticed you? It is also possible to request a personalized course to deepen specific aspects of the white art.
Pivetti Lab was developed by Antherica on the
AnthericaEcommerceSuite platform
. In addition to the portal with course catalog and shopping cart procedure, the project includes a complete back-end management software for the management of orders, payments and administrative documents.
Visit Pivetti Lab
---