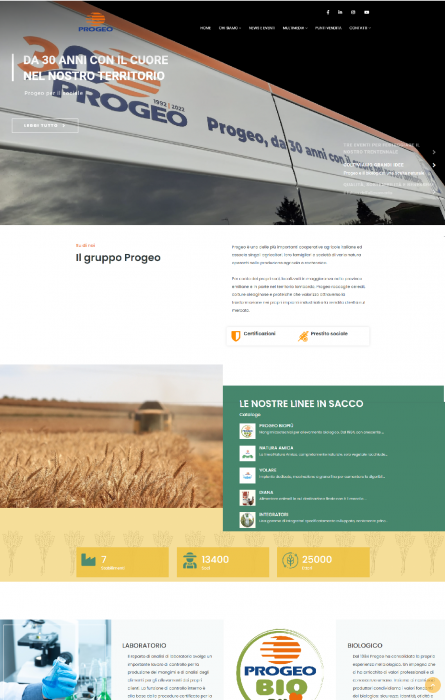 The new website of Progeo, leading group in the agricultural and zootechnical sector, is online.
The website is optimised for mobile surfing, completely revised for what concerns the graphics, rich in content and, as the previous one, supported by the back-end system AnthericaCMS.
The information architecture of the new website has been revised as well, in order to be in line with the new communication objectives, making it easier to find information and providing dedicated pages for the various sectors of activity of the Group.
Progeo celebrated in 2022 its thirtieth birthday: this was the occasion to reaffirm its bond with the territory, donating three ambulances to three local public assistance associations:
here
you can read the news about this event.
Always at the forefront of organic farming and committed to the quality and sustainability of the supply chain, Progeo often promotes conferences thet aim to share the knowledge and offer technical solutions, supporting an ethical and sustainable approach to agriculture and breeding.
Visit the
News
section to discover scheduled events and find out more about Progeo's recent activity.
Enjoy!
Progeo, the new website
---
Related topics: